posted by Writer on Mar 19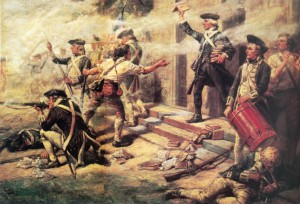 I'm glad my pastor friend brought politics into a sermon shortly before last year's election. Like it or not, churches are divided politically and people needed to hear what scripture had to say. It's only going to get worse. Check your history during the War between the States and see for yourself.
Many Christians cast votes for Obama, Bernie or Hillary – all Marxists. Some out of ignorance, because they don't know what God requires in a leader. Some, going way back to their daddy's day were raised to vote for only one party, and some because they've been deceived.
Yes, deceived by the line put out by mainstream media.
The painting at the top of the page is the Battle of Springfield when Hessian's troops hired by the Crown invaded New Jersey. The guy holding the books with the blunderbuss slung over his right shoulder is Pastor James Caldwell. When troops ran out of wadding for their muskets he went into his church, grabbed a stack of Isaac Watt's hymnals and while tossing them out said; "Put Watt's into them. Give 'em Watt's, boys."
George III placed a huge price on his head forcing Caldwell to preach with a pistol on each side of his pulpit.
To intimidate him further, a British sniper stalked and eventually killed his wife as she fed their child. The soldiers dragged her body into the street and left her there, but not before they stripped and mutilated her.
Tyranny is a wonderful thing, isn't it?
By the way, Caldwell was later killed during the war, leaving 7 children orphaned.
Virginia's Samuel Davies delivered his famous sermon entitled; The Curse of Cowardice in 1755 when settlers were being slaughtered by indians on the Virginia frontier.
Find a copy and read it in it's entirety.
Peter Muhlenberg, also of Virginia, preached on Ecclesiastes 3 ("A Time for War") before leading 300 men from his congregation to fight in the War for Independence. He became a brigadier general and was one of Washington's most trusted soldiers.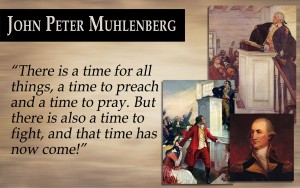 Jonas Clark of Lexington, Massachusetts drilled his people on the principles of liberty that "the first shots of the entire war were providentially selected to be fired on the front lawn of his church" on April 19, 1775. (1)


Most of his men were wiped out, but later that day they regrouped under Colonel Parker and kicked the Red Coats back to Boston with over 250 casualties – that's when our forefather's employed guerilla warfare.
The painting below is entitled "Parker's Revenge" by Don Troiani (along with others on this page) showing the complete disarray British forces were in as they retreated.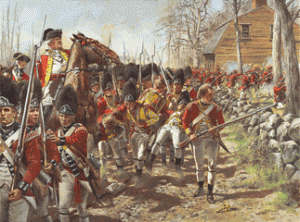 The side God called them to was a tough one and it didn't end well for some.
There are differing opinions whether or not the church should get involved with politics. The men highlighted paid a heavy price to help form the nation.
It's been said that the safest place to be is in the center of God's will.
Really, now?
Let's think about that for a moment 'in light of the lense of scripture.' (2)
We can be doing what He called us to do and still get whacked.
John the Baptist had his head delivered to a spoiled rich wench on a plate. Paul had his loped off by a demented emperor. Both devoted their lives to Christ.
Tradition tells us the Apostle John was boiled in oil and shipped to Patmos. The last we see of Micaiah, he's being led back to his cell – that's all we know (1 Kings 22:27).
"The servant isn't greater than His Lord" (John 13:16).
This doesn't resonate with many Christian's today.
People bailed on Christ and these days He's asking; "Are you going to leave" (John 6:67)?
If they ran out on Him, we can expect the same. We don't like to be isolated, so rather than stand against evil and trying to remove it we turn our heads, dance around it and hope it will go away.
We have choices to make and hopefully enough of you will be moved to drive out the perverse agenda that has infected our land for decades.
In the Detroit area alone there are a number of unsolved homicides. People are also being arrested in the city for killing others over the stupidest things. Keep in mind, this doesn't take into account what's going on in the rest of the nation.
C.A.I.R. (The Council on American Islamic Relations, a front group for the Muslim Brotherhood) is using our laws and Constitution against us to strengthen their grip across the nation while weak politicians capitulate to their demands.
What's good is now called evil.
Colonel William Prescott (the guy with the sword above his head) was in command at Bunker Hill wrote: "Our forefathers passed the vast Atlantic, spent their blood and treasure, that they might enjoy their liberties, both civil and religious, and transmit them to their posterity …Now if we should give them up, can our children rise up and call us blessed?"
There's a story behind why he stood on the mound and waved his sword, but perhaps for another time. Prescott and his men withstood three assaults against His Majesity's troops before they beat feet. The only reason they did was because they ran out of ammo (a constant source of irritation throughout the war), but not before they stuck it to the Redcoats and inflicted over a thousand casualties.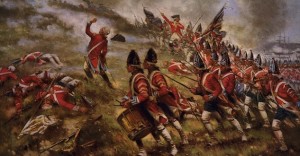 It's a matter of time before the evil that's running rampant touches us. Maybe, it's already touched some of you. If so, I'm sorry.
Like the British forces on Breed's Hill, evil keeps coming in order to wipe us out. It never takes a day off.
How many Christians are aware that satan has a specific plan against each one of us, against our families, our country?
Like the Brith sniper sent to kill Mrs. Caldwell, he lies in wait ready to crank one off and finish us.
Don't think this doesn't happen.
Sitting around in a foxhole, hoping the enemy will leave us alone is not a wise move.
After all, it's very easy to hit a stationary target.
(1) America's Providential History, Mark A. Beliles and Stephen K. McDowell, p. 137; (2) Quote by Rev. Levon Yuill, also known as Brother Lee from the radio show, Joshua's Trail. Note: The title of this piece is named after the book under the sme name by J. Wingate Thornton.