posted by Writer on May 28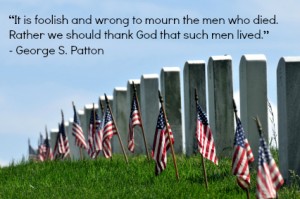 Memorial Day 2017 – Never Forget the price paid for our way of life.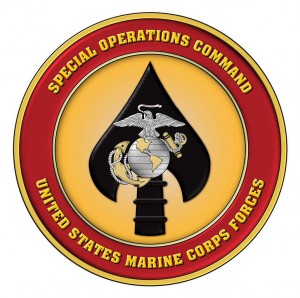 Sergeant William Woitowicz
Gunnery Sergeant Daniel J. Price
Gunnery Sergeant Ryan Jeschke
Captain Stanford H. Shaw
Master Sergeant Thomas A. Saunders
Staff Sergeant Marcus S. Bawol
Staff Sergeant Trevor P. Blaylock
Staff Sergeant Liam A. Flynn
Staff Sergeant Kerry M. Kemp
Staff Sergeant Andrew C. Seif
Captain Andrew R. Hougthon – US Army
1st Lieutenant Adam Malson – US Army
Specialist Joshua D. Brown – US Army
Sergeant James S. Collins, Jr. – US Army
Specialist Byron Fouty – US Army
Sergeant Kyle B. McLain – US Army
(Note: These six men are connected to people who attend the same church as I do.)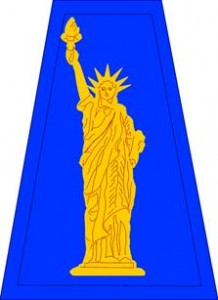 "A Small Corner of Hell" – On the 100th Anniversary of America's involvement in World War I, I wanted to honor some of the many men who fought in the Meuse-Argonne Offensive in 1918. Specifically, the men of the 308th Infantry Regiment, Companies A, B, C, E, G, and H; The 307th Infantry Regiment, Company K and Companies C&D of the 306th Machine Gun Battalion.
"On the evening of October 2, 1918, Major Charles White Whittlesey led nearly 700 men under his command into the Charlevaux Ravine, deep in the Argonne Forest of France. That night, the Germans quietly surrounded them, completely cutting them off from all contact with their main line….five days later, 194 survivors walked out." 
The fighting spirit displayed by these battered men "in the pocket", who came to be known as The Lost Battalion, displayed a tenacity "to the German high command that the Americans were… a force to be reckoned with."  
Their actions led to America becoming a global super power.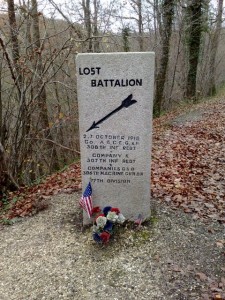 Sergeant Nathainel Rochester of California wrote home to his folks: "In this war I see the coming of a great democracy. A great birthright of the people of the earth – Freedom – is going to be the result…We are fighting in the fight for the common cause. Our father's fought that this hemisphere might have enlightenment. We fight that the whole world may feel its welcoming rays."
Three months after writing this, Nat Rochester lay dead in the mud in that "small corner of hell" and "another mother's heart was broken forever."
Quotes are from the book: The Lost Battalion: Return to the Charlevaux, by Robert J. Laplander. Laplander "is considered the world's leading authority on The Lost Battalion"