posted by Writer on Jun 23
 "Your servant will go and fight with this Philistine." (1 Samuel 17:32)
When we last saw David he was listening to Goliath's trash-talk, looking for a troop to bump heads with.
From a military standpoint three men should have taken him on, but for a number of reasons they didn't. To begin with, Saul was the head of the nation and stood 'taller than any of the people' (1 Samuel 9:3). He was a fierce warrior who went after the enemy, and in the early days of his reign he did a lot of good things (1 Samuel 14:47-48, 52).
Secondly, Jonathan was propelled into the national spotlight after he and his armor-bearer destroyed a contingent of Philistines (1 Samuel 14)*, while Abner commanded Saul's forces (1 Samuel 14:50, 17:55 and 20:25).
From a spiritual perspective, God was about to unveil His new king after the peoples man proved to be a colossal failure. God providentially appointed David for the job.
Saul was desperate for someone to come forward and fight, so to speed the process along he offered a generous benefits package if the man were victorious.
Although on scene for only a few moments, David was livid because Goliath was permitted to slam Israel's reputation and dishonor God (1 Samuel 17:26). David didn't take up the task for the money, but did it for God and country.
Saul also did something else that day; "When Saul offered David his armor, he would have been understood by Israelite culture as offering David his own position as king of Israel. The transfer of clothing signified a transfer of status….Saul's sword was the mark of his position as defender of Israel; when the sword was given to David, Saul's kingship went with it." (1)  
In order to preserve and advance Christianity in America help should come from three areas, but hasn't.
Congress should be upholding the Constitution and protecting constitutional rights. Instead, some attack it, worried more about pleasing their party and getting re-elected.
A large number of Christian men need to utilize time, money, and talent to become more involved in the political process – whether or not we succeed.
Finally, the last line of defense left to us (from a human stand-point) are the pulpits, because they're the only ones with the Truth (Psalm 43:3; John 14:6, 17:3, 16:13).
Some pastors may be looking at the battlefield, overwhelmed at the task. Perhaps, they're concerned of offending people or losing tax-free status, so they don't speak out.
Maybe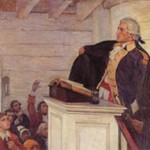 they were never taught in seminary that "The Rights of Colonist's as Christians…may be best understood by reading and carefully studying the institutes of the great Law Giver and Head of the Christian Church, which are to be found clearly written and promulgated in the New Testament." (2)
That's why Obama and radical elements, like the Southern Poverty Law Center, are working feverishly to get rid of all Christian influence in America. They know when Christianity's impact is diminished our rights go out the window with it.
In 2 Corinthians 3:17 we're told 'where the Spirit of the Lord is, there is liberty.' Get the connection? The opposition does, and it's a huge reason they're moving to kick God out. Our leadership, like Saul, has intentionally turned away from God's and His commandments. When this occurs His blessing (and our liberties) are lifted from off our land and as we know, nothing good happens.
We have outstanding men in the pulpits. There's just a difference of opinion as to whether or not they should radically educate their congregations like the colonial pastors did. I think they should.
Good government comes when good people make up society. In days gone by, Americans were made better (transformed, if you will) by preaching that incorporated a healthy fear of God and His Word.
America was founded as a Christian nation. It belongs to you, not a bunch of elitist's in Washington.
What about you? Are you infuriated that our national heritage and the name of Christ is continually dragged through the mud by people who never held a real job in life?
If not, you should be. If you are, it's o.k., because you're not going to lose your salvation over it.
Besides, it's time to tell these Marxist's to 'stick it where the sun don't shine.' (3)
* British General Edmund Allenby used the same tactic Jonathan did to defeat the enemy in WWI after he and one of his officers, Major Vivion Gilbert, read the story.
(1) Chronological Study Bible, Thomas Nelson Publishers, p. 314.  "But David could not wear the armor or the sword; he was not ready to rule, even though he already had the favor of God and the courage to defend Israel." (2) Samuel Adams (3) Mike Huckabee