posted by Writer on May 15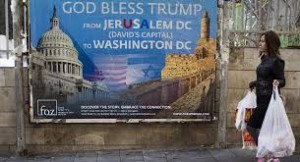 "Great is the LORD, and greatly to be praised in the city of our God, in the mountain of his holiness. Beautiful for situation, the joy of the whole earth, is mount Zion, on the sides of the north, the city of the great King." -Psalm 48:1,2
I don't know if President Trump believes in Christ, but Dr. James Dobson has stated he was present when Mr. Trump accepted Christ as his Savior.
Regardless, moving our embassy to Jerusalem is historic. Yes, more important than Megan and Prince Harry's wedding in the days ahead.
To borrow a quote from Senator Lindsey (Goober) Graham (R-SC); "President Trump has showed the world he's got Israel's back."
I hope Americans experience the blessings God promised in Genesis 12:1-3 to those nations who honor Israel. Many believe God poured out His blessings on the US when President Harry Truman was the first to recognize Israel as a nation 70 years ago to the day.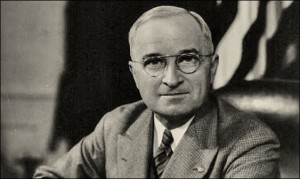 The decision is a bold one, since it signals that America won't be held hostage to a fractious peace process that's frightened other administrations away from doing what this White House is. While other presidents let the threat of violence dictate American policy, Donald Trump refuses to make decisions based on what other groups think. As he's done from the beginning, this president is sending a strong message that America is not going to be bullied or pushed around. The United States will stand with Israel in hopes that there can someday be managed peace…
To the world, it signals a new chapter in America's foreign policy. Under Barack Obama, our country was babysitting the status quo, terrified that a show of strength like this would heighten tensions. And yes, it is a volatile area — but there are new dynamics in the region with Egypt, Jordan, and Saudi Arabia that are positive. As Gregg Roman, the director of the Middle East Forum, pointed out back when the move was announced, this policy of timidity has gotten us nowhere. "Years of concessions, of work to build the Palestinian Authority into something capable of handling the levers of power that a state must wield, have brought us no closer to peace. Shaming Israel politically for defending its own people hasn't worked either."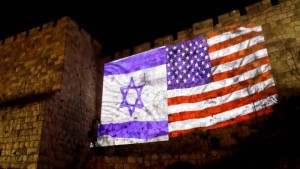 President Trump is re-establishing a constitutional order that the world hasn't witnessed in years. He won't be cowed by the media or intimidated by other leaders. And his approval ratings continue to climb with his most important base because he's willing to fight on these things. Trump's strategy in Israel, on North Korea, and Iran, are all perfect examples of Ronald Reagan's motto, "Peace through strength." Together with millions of Americans and Israelis, we thank him — not only for having the will to act, but the necessary courage.
As the president told all of those on hand by satellite, "The U.S. will always be a great friend of Israel and a partner in the cause of freedom and peace," President Trump told the crowd. "We extend a hand in friendship to Israel, the Palestinians, and to all of their neighbors. May there be peace. May God bless this embassy. May God bless all who serve here, and may God bless the United States of America." (1)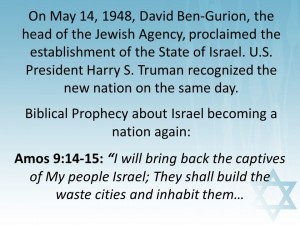 The world has not seen such bold leadership for quite some time. I know peace will not return to that part of the world until Christ returns and establishes "lasting peace", but I love it nonetheless!
"Wrap it Up" – As you know, I love talk radio and listen to Mark Levin regularly. Last Friday, May 11, a caller by the name of Eric from Chicago was very impressive. His call dealt with the Mueller Investigation where he concluded; "The DOJ (Department of Justice) is stonewalling" Congress. "Congress should stick up" for itself and hold obstructionist in contempt. (2)
It's way past time for many to contact their Congressional rep's and say "Wrap it up", putting an end to this costly and bogus investigation.
A Trigger Pull Away – Three recent instances show the country is divided. The first was a heated exchange that took place on the House floor between Representive Mike Kelly (R-PA) and Maxine Waters (D-CA). Next, the campaign add released by Georgia gubernatorial candidate Brian Kemp, and yet another despotic move by California politicans to replace Washington's and Lincoln's birthdays (February 22 and February 12 respectively) with "May Day." Huh?
I'll hit on this next time, but continue to pay attention.
(1) Moving Day! U.S. Celebrates New Jerusalem Embassy, Tony Perkins' Washington Update, May 14, 2018, Family Research Council; (2) The Mark Levin, Friday, May 11, 2018, www.marklevinshow.com