posted by Writer on Apr 21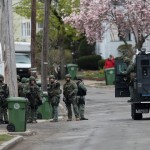 "Thine Alabaster cities gleam, undimmed by human tears!" From America the Beautiful
The late Peter Marshall, son of the famous Senate Chaplain by the same name, said Americans can no longer sing this verse with conviction because of the state we find ourselves.
Major American cities that once thrived lay in ruin today for a number of reasons. The decay of the family unit and the removal of God from the culture, our ultimate source of protection and prosperity, are two of them.
It's been a long and difficult week for the nation, especially the citizens of Boston. The city, called the Cradle of Liberty, suffered a horrific attack.
A major American city was shuttered, reminding me of when the Israeli's rolled into Jericho just before God got ready to level it. The townsfolk sealed the place up tight to no avail, because of fear. That's what happens to people who have no regard for God and His rules.
On the other hand police officers at every level, as they always do, did a masterful job choking off all possible escape routes. In the end, by God's grace, they got what they came for. Thank God for 'Sheepdogs!'
One instance that showed our spiritual decline occurred after the incident ended, when people in the Boston vicinity threw a party. I realize they were relieved at hearing the news the threat had ended, however, did anyone stop and think Who made all of this possible?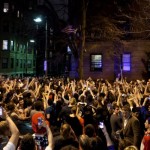 Did churches, like what happened after 911, stop and hold prayers services during the week requesting God's intervention? Or did life inside your local church go on as usual? Did your pastor stop during the service today and make mention of the events this past week and then take a few minutes to bring God into focus?
America took another serious hit, but this time no one at the national level rose up to suggest we bring God into the picture, another reason why we're seeing a breach in our defenses.
Our leaders, including the president who is the figurehead in government, have no room for God. Their actions and policies show disdain for Him, and when this happens we're open to all kinds of trouble. Unfortunately, because of the policies being promoted by this administration we'll most certainly shed more tears as a result of attacks like this, but I hope I'm wrong!
There are many unconfirmed rumors floating about as to what took place in Watertown, and we only have what the media chooses to report. Most likely we'll never know what really happened last Friday. However, it would also be refreshing just once, to see President Obama get upset when Americans are killed instead of throwing tantrums when he doesn't get his way. (1)
(1) Rush Limbaugh Show 4-18-13.