posted by Writer on Apr 9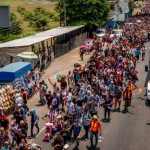 A caravan of dangerous illegal immigrants is said to be headed towards the US southern border while the Left continues to quash liberty.
Cities across California are pushing back against the lawlessness acts by Leftist Governor Jerry Brown and his Attorney General, Xavier Beccera.
Marxist's resort to calling us intolerant or racist because we want to protect our nation from foreign invaders. They go insane if you're Pro-American, Pro-Life, Pro-Constitution, Pro-Christianity, Pro-Second Amendment, Pro-Israel and anything that stands for or promotes individual liberty.
So what, let 'em.
According to Leftist's there is only one opinion – theirs!
Robert Mueller continues his baseless, but politically motivated, attacks against President Trump.
Establishment politicians are still in a tizzy from the 2016 election results and doing everything in their power to keep this bogus investigation alive in an effort to weaken President Trump's standing in the world.
All this while the Russians, Iran and Syria are kicking up their heels and as China wages war against us by stealing our technology. (1)
It was reported today that the FBI raided the offices of President Trump's personal attorney. Yet, we've never seen this type of action taken against former President Obama, his former aides, Comey, Rosenstein or Madame Clinton. (2)
They're in up to their ears, yet the administrative state (3) looks the other way.
Leftists are doing the same to Israeli Prime Minister, Benjamin (Bibi) Netanyahu, while members of ISIS and other Islamic radical groups attempt to crash Israel's border to destroy the Jews.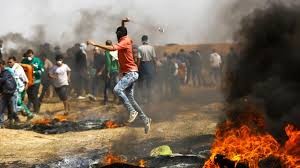 Why this assault against these two men? Because it distracts them from tackling the real issues facing their countries.
Mark Levin has reminded us countless times that "we're being ruled, not governed."
Yet, it's encouraging to see genuine patriots in California standing-up against their Marxist governor and attorney general.
It's time to stop giving passes to Marxist's who blatantly break the law. We can only hope voters in the Golden State will send these two and the rest of their ilk packing.
Patriots in Oregon need to follow suit and kick their governor out office after she indicated she would refuse a request to send troops to the southern border if asked.
Yet, she didn't waste any time sticking her hand out and taking a wad of money from George Soros – an avowed enemy of this country.
Voters should throw her out on her ear.
The civil war is still in its infant stages, but the "division of the house" continues to escalate.
Just in Case – Many Americans have short memories. If you do, I just want to remind you that today on this date, April 9, 2003, was the Fall of Baghdad. Don't forget to thank God for those kids who picked up a rifle and ran into the fight!
(1) Mark Levin, The Mark Levin Show, Friday, April 6, 2018, marklevinshow.com; (2) Ed Henry, Fox News reporter on the Sean Hannity Show, April 9, 2018; (3) Mark Levin chooses to call the "deep state" the administrative state and with all the bureaucracy in Washington today, I think he's right.
Note: The photo of California governor Jerry Brown was from the Fox News Channel website, so I took the liberty to use it for this latest post.
Title for this post is from a quote by Fox News' Greg Gutfeld. I liked it, so I used it and give credit where credit is due.