posted by Writer on Jan 5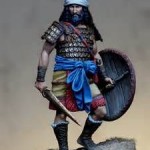 "We have been forwarned that an enemy relentlessly threatens us…"
"An enemy who is the very embodiment of rash boldness, of military prowess, of crafty wiles, of untiring zeal and haste, of every conceivable weapon and of skill in the science of warfare." John Calvin (1)
Continuing on the theme of "staying in the fight," I want to bring it home with incident that happened almost thirty years ago to a young Los Angeles police officer by the name of Stacy Lim.
On June 9, 1990, Stacy was on her way home after playing in a department softball game. She was tired and didn't notice she was being followed by 5 gang-bangers who were planning to kill her and steal her car.
Although off duty, Lim routinely placed her pistol under her left arm when she arrived home each night before exiting her car. She didn't realize one of the thugs snuck up on her and pointed a .357 Magnum at her until the last second.
Stacy drew her weapon, identified herself and ordered the man to drop his gun. Both fired at the same time. A round "struck her square in the center of the chest. Stacy's round hit the suspect in the shoulder. The bullet entered Stacy's chest, knicked the base of her heart, her diaphragm, liver, intestine, and shattered her spleen, before exiting through a tennis ball sized hole in her back. (2)
Seriously wounded, Lim gave chase where the gunfight continued until Lim ended it by pumping three rounds into the bad boy. The other "perps" fled the scene, but were arrested hours later.
When responding officers arrived they found the suspect dead and Lim lying on the ground.

On our spiritual journey there will be difficult times, times in the valley, where we'll take incoming rounds. And they will be painful.
Lim described being shot this way: "If you take a javelin, heat up about a 1,000 degrees, shove the thing through your chest, that's what it feels like – a real burning sensation." (3)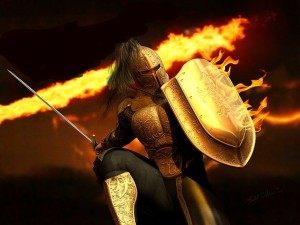 Lim's training kicked in that night. She took a good shooting stance and engaged the assailant.
People have talked themselves into dying after being seriously injured, but Stacy refused to cave. She isn't a survivor, her mindset to overcome allowed her to prevail over her attacker.
Although her heart stopped once that night, Stacy never quit fighting and returned to active street duty 8 months later.
This incident is a powerful example of what it means to do all you can "to stand" even when fiery darts hit their intended target.
Train, Train, Train!
 1). John Calvin quote was used in a sermon on November 24, 2019, delivered by Nathan Smith (Senior Pastor, Heritage Baptist Church, Lynchburg, Virginia) entitled; "All Things New – A Divine Outpouring of Justice and Mercy."; 2, 3). "I Knew I Wasn't Going to Die" Sgt. Stacy Lim's Story of Survival by Lt. Dan Marcou, PoliceOne.com, March 4, 2015